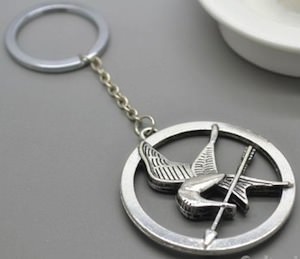 After the first Hunger Games movie we all know how important the Mockingjay pin is and if you read the whole series of books then you know even more.
Now you can support Katniss on her quest by getting this Mockingjay key chain.
It is almost the same as the Mockinjay pin but this time it is chrome and it can hold you keys.
And this Hunger Games item comes in a gift box and that makes it the perfect present for a fan of The Hunger Games.
So if you are a true fan of the Hunger Games story then you have to check out this The Hunger Games Mockingjay Key Chain.