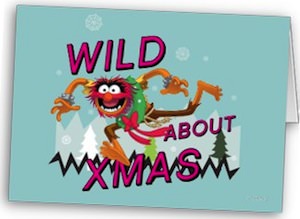 What kind of Christmas card do you send to a Muppets fan?
Yes a Muppets Christmas card that you don't find in store.
This card shows Animal and the words 'Wild About XMAS" and in the background you see mountains and trees.
And if you want then at no extra cost you can personalize the card on the inside with you own message printed in it.
But you can get it blank to so that you can write in it.
Get wild about Christmas and start by sending this The Muppets Wild About Christmas Card.