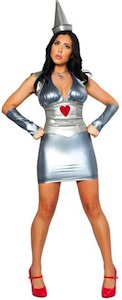 OK it may sound strange to be a female version of the Tin Man but that is what this costume is.
Now you can be a sexy Tin Man based on the Wizard of Oz movie.
Of course the costume is not made from Tin but from strechy fabric.
So this costume includes a halter dress, vest, waist cincher with red heart decal, hat and arm pieces.
and that is everything you need to become the female Tin Man (you may want shoes).
Enjoy this Halloween by wearing this The Wizard of Oz Tin Man Sexy Womens Costume.