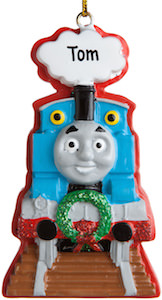 Kids are gone love this Christmas tree ornament of Thomas the Train.
The ornament shows the front of Thomas with the railroad tracks and Thomas the Tank Engine even has Christmas decoration on it that sparkle. But what makes this ornament even more special is the name of your kid on the cloud of smoke above Thomas.
Yes this is a personalized Christmas ornament and it can hold a name of up to 9 characters.
Just imagine your kids name on a Christmas ornament they like.
The Thomas the train ornament is 3.5 inch tall and comes with a ribbon to hang it in your Christmas tree.
If you kids like Thomas and trains then you have to get them this Thomas The Train Personalized Christmas Ornament.