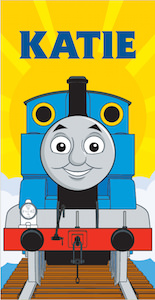 Make your Thomas the Train loving kid feel even more special with this beach towel.
This beach towel is not just any beach towel it is a personalized Thomas towel.
The towel shows Thomas the Tank Engine on the track with the yellow sun right behind him. And to make this towel better and more special above the train it says a name and that can be the name of your child.
Yes this towel will be personalized specially for your kid and can hold up to 12 characters.
And witch child won't feel specially knowing that Thomas made this train towel with their name on it.
Surprise you child with this Thomas & Friend Personalized Sunshine Beach Towel.