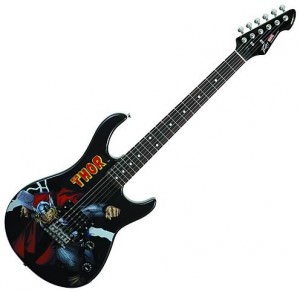 Thor is the master of smashing things, and maybe in his spare time he is a master guitarist.
This is an unbeleivable product for the Marvel Comics fan, and most importantly the Thor fan.
The image on this electric guitar is of Thor in a high jumping action shot ready to unleash his power, also find "THOR" printed beside him all with amazing attention to detail just as you would expect from a Marvel Comic.
Made to be high quality from Peavey Electronics a leader in fabricating musical intruments this is a  full-size electric guitar that has a maple neck and rosewood fretboard all to make a great balance and tone for your music.
Have a closer look at the Thor Rockmaster Electric Guitar.