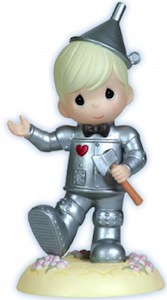 This is the cutest Tin Man that I ever seen.
This Wizard Of Oz figurine is made by Precious Moments and that of course means a quality hightly detailed product that make people stare and admire.
This Tin Man figurine is called "Let Your Heart Guide You" and is made from Bisque porcelain.
As you can see on the picture Tin Man is wearing his tin suit with his little axe and he even has a little bow tie and of course a red heart.
This Tin Man figurine has such amazing details that it almost looks like it walked right out of The Wizard of Oz story.
If you collect amazing figurines then you have to get this Precious Moments Tin Man Figurine.