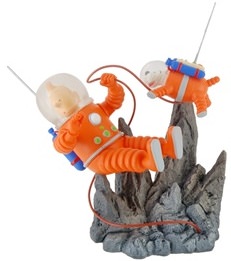 This Tintin figurine is just like the scene in the Tintin Explorers On The Moon book.
You see Tintin and Snowy in spacesuits flying in zero gravity above a piece of moon rock.
A figurine like this is fun to add to your collection or to just put on your desk at work. It's fun to see how people thought of space travel when this Tintin story was written.
Come have a closer and better look at this Tintin Explorers On The Moon Figurine.