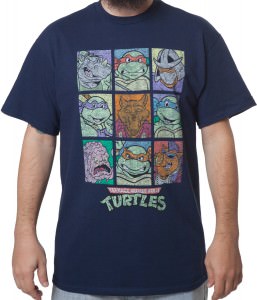 The classic characters of Teenage Mutant Ninja turtles are here to remind you how cool and awesome they are.
On the front of this t-shirt you will see 9 awesome characters from the awesome series of movies, comics and television Teenage Mutant Ninja Turtles each character is a head shot done in a retro classic style find four Turtles Leonardo, Michelangelo, Raphael, Donatello aswell as Master Splinter, Shredder, Krang, Bebop, and Rocksteady.
This t-shirt is for everyone as it is available in a huge selection of sizes that range from Small to 5XL and it is made from 100% cotton to give you a very durable long lasting tee that will also be super comfortable and soft to wear.
Get a close look at the Teenage Mutant Ninja Turtles Retro Characters T-Shirt.