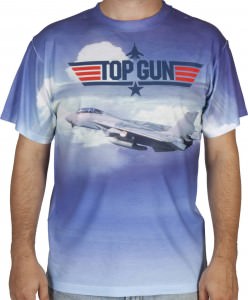 Kenny Loggins sang it best, "Gonna take you right into the danger zone". This t-shirt will skyrocket you into the danger zone of being so good looking. Fly with Maverick, Goose and Iceman in this cool Top Gun t-shirt inspired by the 1986 movie.
The entire t-shirt looks like a perfect sunny day with blue skies and perfect white clouds. It features a F-14A fighter jet on the front and back and includes the Top Gun logo.
This fantastic t-shirt comes in sizes Small to 3XL so you and your buddies can put your call name on the back and go out in style.
Stand at attention when wearing your Top Gun Sublimation T-Shirt.