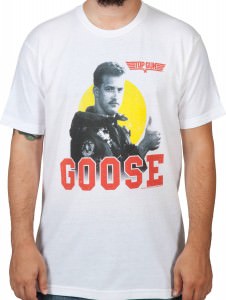 Our first favorite radar intercept officer, LTJG Nick "Goose" Bradshaw is definitely someone you would want on a T-Shirt, especially a cool Top Gun T-shirt.
This t-shirt features the Top Gun logo on the left chest. It has a side profile picture of "Goose" with his thumbs up, showing us all is good. Behind him is a big yellow sun and goose is written across the shirt below the picture.
It is 100% cotton, and ranges from sizes S to 3XL which means a size for everyone.
Give thumbs up to all you meet with the Top Gun Goose Thumbs Up T-Shirt.