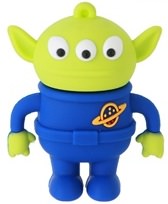 Remember the Aliens from the Toy Story movies?
This is one of them and this one is more then just a toy. This Alien is a USB flash drive.
He loves to store all your important data and protect it with his alien life.
As you may know the Aliens originaly came from a claw vending machine at Pizza Planet but now they are a main part of the Toy Story clan.
The USB Connector is hiden in the head of this Alien. So just remove his head and you can get to your important data.
If you like a cool looking Alien as your Flash drive then you have to look at this one.
Come and get your Toy Story Aliens USB Flash Drive.