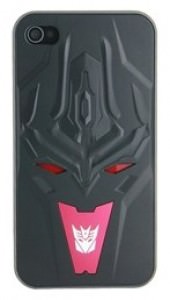 Deception, the bad guys from the awsome television and movie series Transformers.
This is an iPhone 4 and 4S case that features the Deception logo, aswell as a really cool 3D logo to go along with it.
You will find this iPhone 3D Transformers case very durable and you will love the feature of it keeping all buttons and ports open for use while on, and it's soft grip for a great non-slip surface.
Get your Transformers 3D iPhone 4 And 4S Case.