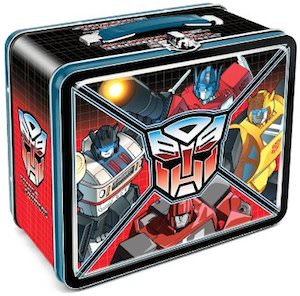 No more bagged lunch for you because now there is an Transformers lunch box.
This metal lunch box has embossed graphics and it's Autbot all the way.
Yes the lunch box has the Autobot logo on it and then there are many Autobot transformers on the front and the back and yes of course that includes Optimus Prime and Bumblebee.
A lunch box like this is great to put your lunch in and take it to school or work but is you don't want to worry about damaging it then you could of course use this Transformers lunch box to store other things in like maybe Transformers memorabilia.
Now would be a great time to check out this Transformers Autobot Lunch Box.