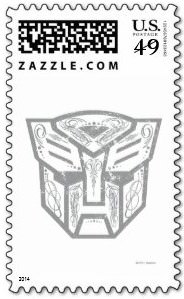 How to you send you snail mail?
Still using boring postage stamps with things on it you don't care about?
How about a Transformers stamp that is a real United States Postal Service stamp that you can use on all your mail.
This plain looking stamp has  a big Autobot logo on it in black and white and as the stamp is white to this logo will be prominent on your envelop.
You can get this Transformers Autobot stamp in different values so that it fits your needs perfectly.
Birthday invitation, bill and just letters all can use some this Transformers Autobot Postage Stamp.