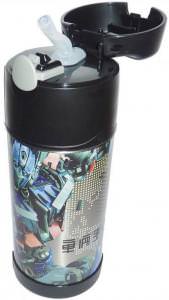 Keep your beverage at the perfect temperature with this FUNtainer bottle.
Featuring Optimus Prime and BumbleBee from the cool television and movie series Transformers, a very well detailed picture of each can be found on opposite sides of the FUNtainer with awsome vibrant colors.
A very durable stainless steel interior and exterior also features a push-button lid with pop-up straw, also a double-wall vacuum insulation helps to keep your favorite liquids hot or cold.
Check out the Transformers Optimus Prime & Bumblebee Funtainer Bottle.