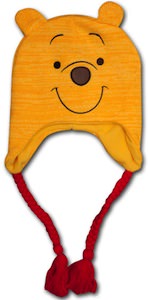 This winter hat will bring back memories of you favorite bear Winnie the Pooh.
Maybe it is because the laplander hat looks like the face of Winnie and it even has cute little ears.
So now you can bring back time by wearing a winter hat that looks like Winnie the Pooh.
The hat is Winnie yellow and has two red ropes on the sides that make it all look even nicer.
It doesn't matter or you or your kids want to wear it as this hat is one size fits most so just come and check out this Winnie The Pooh Laplander Hat.