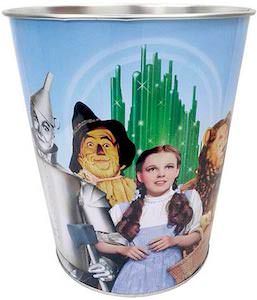 Remember all your favorite moments from the great 1939 film "The Wizard Of Oz"  when you were a kid?
You sure will remember when Dorothy and Toto gets swept up in a tornado and wakes up in the land of Oz when you see this Wizard Of Oz waste basket.
She will go on a journey to find the wizard so he can help her go home. Along the way as she followed the yellow brick road she found three great friends Scarecrow, Tin Man, and the Cowardly Lion.
On this waste basket there's a image of OZ's Emerald city is in the background and a picture of Dorothy and her three great friend's she met on her quest to find the wizard.
This Wizard Of Oz garbage bin is 10 1/4 inches tall. The perfect size to sit at your desk at home or at work.
Bring back your fun memories of your favorite childhood movie by looking at this Wizard Of OZ Four Friends Waste Basket.