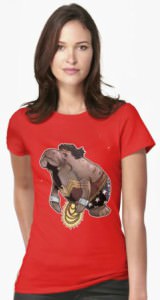 It's a bird! It's a Plane! It's Superman, no wait it's Wonder Woman! No wrong again…
It Is Wonder Womanatee!
On the front of this shirt, you will see a cute manatee that is full dressed up like the DC Comics superhero of Wonder Woman. Yes the manatee has the red, white and gold suit on and is holding the lasso complete with a headband tiara and bracelets.
Available in a wide selection of women's fitted sizes that will range from Small to 2XL. Also, you get a choice of 18 different fun and vibrant colors as well as a choice to get the print on the front or back.
Also check out all of the other shirt styles like V-neck, unisex and hoodies to get the Wonder Womanatee print on.
You may also like: