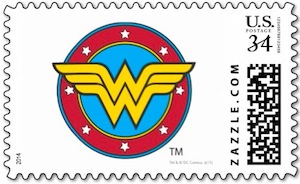 There is the postage stamp you have been waiting for a stamp that has the logo of  the female superhero Wonder Woman on it.
Yes this is an official United States Postal Service stamp. And this Wonder Woman stamp is available in all kind of values so that it will fit the needs you have for mailing.
A stamp that has the famous Wonder Woman logo on it in full color is great for any kind of mail.
If you friends know about your love for Wonder Woman then they will smile when they get mail from you with this logo stamp.
So lets make snail mail fun again with this Wonder Woman Postage Stamp.