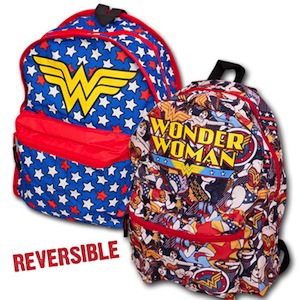 Why only have one backpack and use it every day?
This Wonder Woman backpack is not one but two backpacks in one.
Just fold it inside out and a different Wonder Woman backpack is ready to be used.
One design is blue with red details and lots of stars and of course a big yellow Wonder Woman logo and the other designs shows all kind of scenes from the Wonder Woman cartoons and also has Wonder Woman writen on it and a smaller logo.
You may also like: