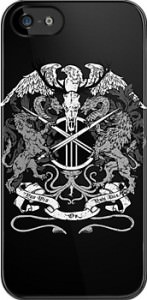 The Game of Thrones is an awesom TV series that has captured th heart of many, if you love The Game of Thrones and you love all of your precious Apple devices then why not put them together.
On this iPhone and iPod touch case you will find a very cool crest that features a collage of all the kingdom's seven noble families that fight for control of the Iron Throne, House Stark, House Arryn, House Baratheon, House Lannister, House Targaryen, House Tully and House Tyrell.
The Game of Thrones You Win Or You Die case is available for many different Apple devices:
iPhone 5
iPhone 4S
iPhone 4
iPhone 3GS
iPhone 3G
iPod Touch 4th generation
Check out this Game of Thrones You Win Or You Die iPhone And iPod Touch Case.
You may also like: