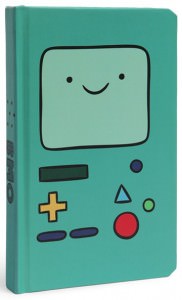 Adventure Time fans will most definetly recognize the design on this journal right away.
This journal is based after BMO the fun video game robot that is seen in the funny animated television series Adventure Time.
The front and back of the BMO journal look just like BMO does, from the screen with a face to all the buttons and controls, the side has "BMO" written as well.
This journal can have many uses for you, a personal diary, keeping notes and recipies or use it for back to school. It will be easy to keep track of all your notes too as it has a built in bookmark, the BMO journal features 192 lined pages and an elastic to keep it closed.
Start keeping track of your ideas with the Adventure Time BMO Journal.