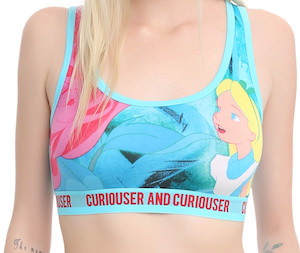 How would you like to go on an adventure like Alice did in the movie Alice In Wonderland? Well, when you wear this special Disney Alice In Wonderland curiouser sports bra you might find yourself falling down a rabbits hole.
It is a Special looking sports bra that is baby blue in color and it features a picture of Alice on one side in the magical land of Wonderland.
This Alice In Wonderland sports bra has straps over the shoulders on both arms and two straps criss crossed on the back as well. Also around the band and the criss cross straps in the back are one of Alice's quotes "Curiouser and Curiouser" written all around. Available in sizes Small, Medium, And Large.
Go on a magical adventure in Wonderland while wearing this Disney Alice In Wonderland Curiouser Sports Bra.