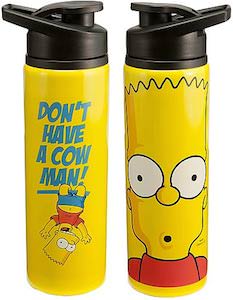 Are  you a fan of the television show The Simpsons ?
Do you like to take water with you wherever you go? If you love Bart Simpson this water bottle is the perfect choice for you to take with you to the gym, work, school or really anywhere you go.
This stainless steal yellow water bottle has a big picture of Bart Simpsons face covering the one side of the bottle and on the other side is a quote " Don't Have A Cow Man and Bart at the bottom hanging upside down.
It holds up to 24 ounces of your most favorite beverage
Remember all your favorite moments and laugh when you look at this Bart Simpson Water Bottle.