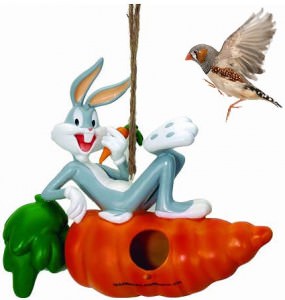 This delightful Bugs Bunny birdhouse will have all your friends wishing they had one just like it.
You can almost hear Bugs saying, "What's up Doc?" the way he does in the Looney Tunes cartoons.
Whether you are sitting on your deck, balcony or patio, you can watch your feathered friends flock to this birdhouse. They all want to call this large carrot their home.
This Bugs Bunny birdhouse features an 11" long bright orange carrot, with its green leaves. You can see Bugs lounging on top ready to chomp on his own carrot. This birdhouse is made of resin for outside use or you can hang it indoors as a decoration.
Enjoy you outdoor space more this year with this Bugs Bunny Birdhouse.