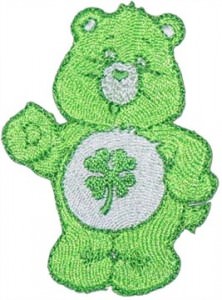 Do you need some luck? Do you love Care Bears? Then you should try wearing this adorable Care Bears Good Luck Bear Patch.
This Good Luck Bear Patch is three inches by three inches and is has a white background with a cute large green Care Bear on it, this Care Bear has a white muzzle and a white patch on his tummy. There is a green four leaf clover on the white tummy patch and the patch can be ironed on any material.
If you love Care Bears and want to be lucky then get this Care Bears Good Luck Bear Patch.