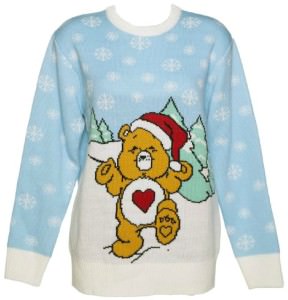 The childhood favorite television shows and plush teddy bears of the Care Bears is a classic, now you can show off your holiday Christmas cheer and love for the Care Bears with a sweet knitted sweater.
On this sweater you see a large image of Tenderheart Bear who has a large red heart symbol and is wearing a Santa hat walking in snow. With a background of trees the rest of the sweater is light blue with white snowflakes all over front to back.
Available in women's sizes that will range from XS to XL this is a knitted sweater that uses a high quality 100% premium acrylic material to give you a long lasting sweater that is perfect for your Christmas party.