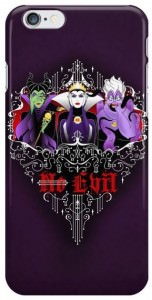 Featured on this case and skin is a really great image of three Disney villains, find Maleficent from the movie Maleficent and Sleeping Beauty, The Evil Queen from Snow White and Ursula from The Little Mermaid all looking evil and side by side in full vibrant color with a very cool looking design surrounding them and a red "NO EVIL" printed below them.
Each of these high quality cases and skins are made to fit the specific device leaving all ports and buttons open for use, the devices you can get this print on are as follows:
Samsung Galaxy S3
Samsung Galaxy S4
Samsung Galaxy S5
iPhone 4
iPhone 4S
iPhone 5
iPhone 5s
iPhone 5c
iPhone 6
iPhone 6 Plus
Let the evil Disney villains of Maleficent, Queen Grimhilde and Ursula protect your precious device.
Don't wait, order this Disney Evil Villains iPhone, iPad And Samsung Galaxy Case.