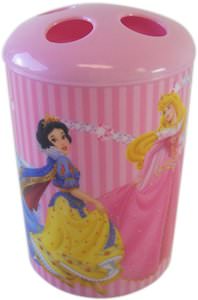 Are you always fighting with your little ones to brush there teeth?
Well, maybe you can get them to brush a little quicker if they find there toothbrush in this really cute princess toothbrush holder.
This cute pink with stripes Disney Princess toothbrush holder features a picture of the lovely Snow White in her pretty yellow and blue dress wearing her crown, and a picture of the beautiful Aurora in a lovely pink ball gown.
It measures 4.25 inches tall x  2.5 wide so it won't take up much space on your bathroom counter.
Your little girl will dream of witch princess she wants to be when she grabs he toothbrush from the cute Disney Princess Toothbrush Holder.