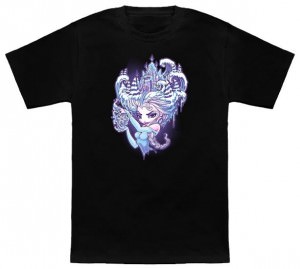 Have you ever had a bad day and you wanted to give anyone and everyone the ice glare? Well now you can with out drawing to much attention to yourself. Let your t-shirt do the talking, Frozen style.
The graphic has so much detail. Elsa is in beautiful blues and purples. She has a mischievous look in her eyes and is ready to turn the next thing to ice and snow. Her hair turns into an outdoor scene with trees and her ice castle.
There are 10 different colored t-shirts for this print to be placed on. The t-shirt ranges from sizes Small all the way to 6XL, so anyone that loves Elsa can be pleased with this t-shirt. It is made from 100% cotton and it men and women's version so that we can all wear it.
Just let it go and wear your new Elsa Winter Princess T-Shirt.