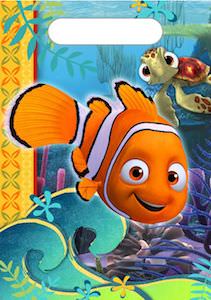 Every birthday party needs loot bags for the kids.
If your party is a Finding Nemo themed party these special loot bags would great to fill with treats to send the kids home with.
On these treat bags features the cute clownfish Nemo with is friend Squirt having fun in the beautiful ocean.
These Finding Nemo loot bag comes in a pack of 8. Ready to be filled with kids favorite Nemo toys and treats to take home when they leave the party.
All the kids will have fun adventures with Nemo and Squirt at the party.
Put smiles on all the kids faces after they receive their special treats in they're Finding Nemo Loot Bag.