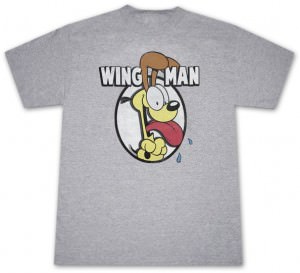 The familiar wet tongue of Odie is unmistakable!
Garfield is a classic television cartoon series and comic strip with great characters like Odie. This is a t-shirt that features this fun loving dog Odie who is in many eyes the sidekick of Garfield, or as this t-shirt says he is the "Wingman" of Garfield.
You can find this cool Odie "Wingman" t-shirt in ash grey color and sizes Medium to XXL and it is made of a cotton/polyester blend.
Get your Garfield Odie Wingman T-Shirt.