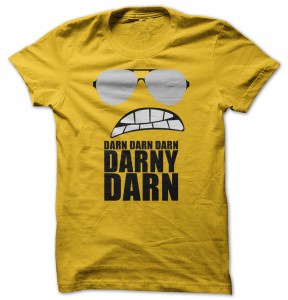 Every good movie has a good cop and a bad cop, it is no different for the fun and awesome movie The LEGO Movie.
On this t-shirt find the face of Bad Cop, with the twist of his head he goes from good cop to bad cop and this t-shirt features the aviator style glasses and mean grin of bad cop on a yellow shirt along with the phrase "Darn Darn Darn Darny Darn".
Made to be comfy and durable the LEGO t-shirt is available in a wide selection of sizes that range from Small to 3XL and great for all occasions.
Have a look at The LEGO Movie Bad Cop Face Darny T-Shirt.