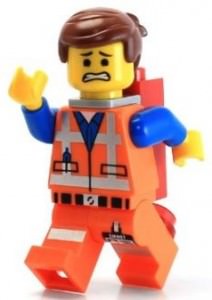 The super cool LEGO Movie has so many fun characters from master builders to super heroes we all know and love, and the LEGO movie just happens to need a hero, do you think a regular everyday ordinary construction worker named Emmet can be the hero or will it be Batman or Superman??
This is an official LEGO minifigure that is featured after the every day construction worker Emmet, find him in his bright orange construction suit with two faces a grin and a panic face. Also this Emmet comes with the piece of resistance and the ankle tracking device.
Collect and add to your LEGO collection with the LEGO Movie Emmet With Piece of Resistance Minifigure.