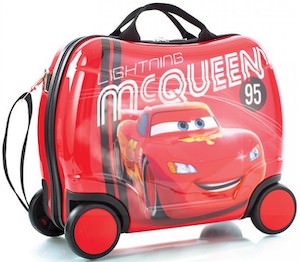 Are your children a fan of the Disney movie Cars and love to go on adventurous family vacations?
Well, they will love to pack there belongs in this cool Cars Lightening McQueen suitcase. Lightning McQueen will be more than happy to accompany you on your holiday because he loves adventurous trips too.
This awesome hard shell Cars Lightening McQueen red carry on luggage features the coolest fastest car Lightening McQueen from the Disney movies "Cars" on the side of the suitcase with his name wrote above his head and the number 95 in a black circle.
The cool suitcase as a really special feature for your child to be able to ride along on top of Lightning McQueen through the airport. It has a removable strap, rubber trims, high quality wheels and is carry on approved.
Go for a ride with the cool Lightning McQueen on this awesome Cars Lightning McQueen Ride On Luggage.
You may also like: