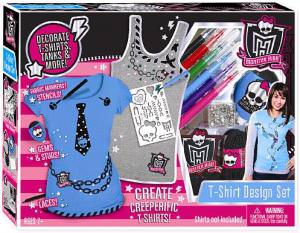 Do you love the freakish style of Monster High, you know all those ghouls and monsters that look drop dead gorgeous.
If you do then you will need to check out this set, it is an official Monster High shirt design set that will turn all of your ordinary t-shirts, tank tops, hoodies or really any shirt into smething creeperific.
Included in this shirt set is 6 colorful fabric markers, 133 stencil designs, gem and stud setting tool with 30 studs and 20 gems, 27 gem and stud patterns, black shoe laces, monster high logo patch and design guide.
Design yourself with the Monster High Shirt Design Set.