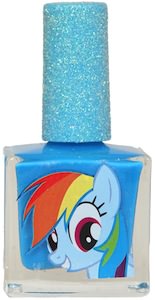 Rainbow Dash is my favorite pony from the My Little Pony adventures and now you can have nails that looks stunning and have the Rainbow Dash stamp of approval.
This Rainbow Dash nail polish is a turquoise blue shade and will look stunning on your nails.
The nail polish comes in a 6.1 fluid ounce bottle with of course a picture of Rainbow Dash on it.
So My Little Pony fans check out this My Little Pony Rainbow Dash Nail Polish.
You may also like: