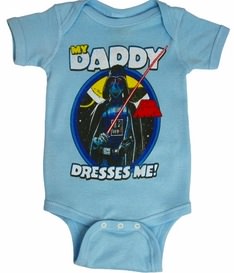 OK ladies of the world this could be actually happend to you if you geeky boyfriend and you decide to have kids.
So you boy likes Star Wars but that kinda automaticly will mean that you kids will be future Star Wars fans and that will start early, really early.
This bodysuit is one example at what daddy is gone make your baby wear
This bodysuit shows the text "My Daddy Dresses Me!" and in the middle Darth Vader.
Of course this means that you newborn will get the Darth Vader gene at a very young age.
Make you kid in to a Star Wars fan by getting it this Star Wars My Daddy Dresses Me Darth Vader Bodysuit.