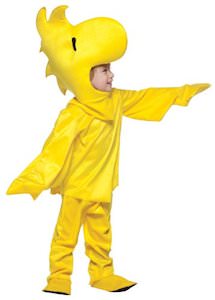 Do your kids love the Peanuts cartoons?
If they do then why not dress them up like one. This costume of Woodstock is great for toddlers and comes in a wide range of toddler and kids sizes.
And by simply putting on this costume you kid will look like a pretty yellow bird in no time.
The Woodstock halloween costume includes shirt, pants, shoe covers and of course the head. Nothing else is needed to become a little Woodstock bird. Now it just needs a Snoopy to be friends with.
Just imagine how much fun the kids will have with this costume. They can play Woodstock everyday or just for Halloween.
You may also like: