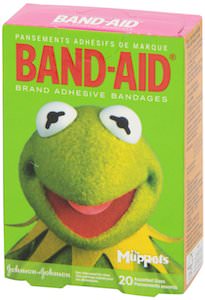 It doesn't matter if you are a young kid or and old person we all have little accidents that need a bandage.
And now if you like The Muppets you can have a Band-Aid based on the Muppets.
Just stop the bleeding with a Kermit, Miss Piggy, Animal or an other Muppet character Band Aid.
Each box has 20 assorted bandages so that will keep you safe for a while.
And sure these Muppets Band-Aid are just as good as regular boring Band Aid so why not bring some color in your life with a Band Aid that looks fun.
Now is the time to stock up on The Muppets Band Aid.
You may also like: