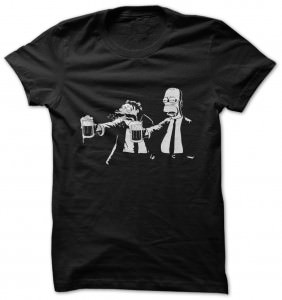 A classic movie still from Pulp Fiction is combined with the fun animated series the Simpsons, who knows what awesome t-shirt could be made. Oh wait here is that t-shirt.
On the front of this t-shirt you will find the classic pose from the cool movie Pulp Fiction where the two characters are side by side holding guns up, the only difference here is the heads are changed to be from the fun animated series The Simpsons with Barney Gumble and Homer Simpson both in suits and holding up beers instead of guns.
This is a 100% cotton t-shirt that will be both durable and comfortable and can be found in a wide variety of sizes that range from Small to 3XL.
Also check out the other styles of shirts like hoodies and womens fitted t-shirt.
Kick back and relax with a beer while wearing this Pulp Simpson T-Shirt.