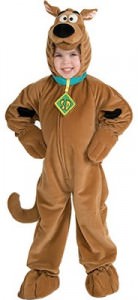 Scooby wants a Scooby snack! Or maybe some Scooby candy.
This costume is of Scooby-Doo from a favorite television animated series Scooby-Doo with so many resons to love this cool and crazy dog why not show off your love for Scooby-Doo and get into this really nice and really soft plush costume. Also included is the signature dog tag with SD on it and a huge plush Scooby-Doo head.
Kids Sizes are as follows:
Toddler: USA size 2-4, for 1-2 Years
Small: USA size 4-6, for 3-4 Years
Medium: USA size 8-10, for 5-7 Years
Get your Scooby-Doo Plush Kids Costume.