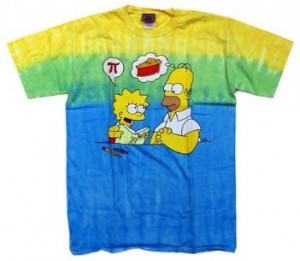 The awesome TV series The Simpsons has everyone wondering if Lisa really is Homers daughter, they seem to always be on different pages and have different ideas.
A very clever t-shirt that features a yellow, green and blue tie dye colors that has Lisa Simpson reading a book and her quotation cloud has a picture of the mathmatical symbol Pi, Homer Simpson has his brain in a little different area, find his quotation cloud with an image of a piece of pie.
This amazing tie dye Simpsons t-shirt is made from 100% cotton which will make it very soft and comfortable aswell as durable to last a long time. It is available in a variety of sizes that range from M to 2XL.
Look sharp in this Homer And Lisa Simpson Pie Pi Tie Dye T-Shirt.