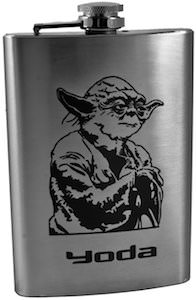 Taking a sip from this Yoda flask will look so cool. This Yoda flask will make all Star Wars fans envious and wanting one of their own.
Use the force! For eight hundred years I have trained Jedi's. Cloudy your future is. This is just a few quotes from the powerful Jedi himself.
This flask as a 8 oz capacity. With a picture of Yoda on the front and his name wrote right under him.
And Yoda is laser engraved into this stainless steel bottle to make it last as long as the flask will.
Enjoy this flask as it will take away your stress as you reach the bottom.
Relieve those Yoda moment with every sip you take from the really cool Star Wars Yoda Flask.