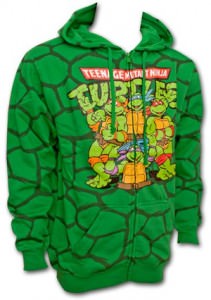 TMNT, an awsome animated series about turtles who are ninjas. This Teenage Mutant Ninja Turtles hoodie is a great way to show your love for these ninjas and a great way to keep nice and warm.
The TMNT hoodie features a design that looks absolutely awsome, a shell pattern covers this entire hoodie and for easy access to put it on and off it has a full zipper and a great graphic of the four Ninja Turltes Leonardo, Raphael, Michelangelo and Donatello.Other cool features are the front pockets and the draw string on the hood. You can find your Teenage Mutant NinjaTurtles hoodie in many different sizes.
Find your Teenage Mutant Ninja Turtles Zip Hoodie.
You may also like: