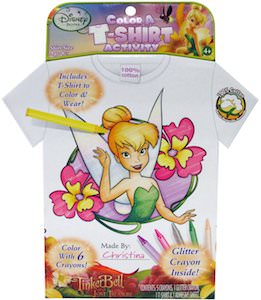 Tinker Bell the tinker fairy is sweet and loves to go on adventures.
Let your kids be creative with their very own Tinker Bell color a t-shirt. Then they can have fun and go on an adventure with Tinker Bell herself.
This set includes a 100% cotton t-shirt and one size fits most. It comes with one adhesive sheet, five metallic crayons and one glitter crayon.
You can make it permanent with an iron once its colored or you can wash it out. Then let your kids have fun coloring it all over again.
Recommended  for children four to seven.
Let your children have fun with their very own Disney Fairy Tinker Bell Color A T-Shirt.