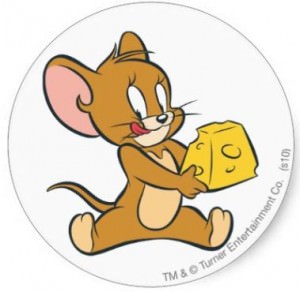 Stickers have so many uses from arts and crafts and scrapbooking to decorating your personal items or use them on your child's reward chart for a job well done.
This cute sticker features Jerry the mouse sitting down ready to eat a large piece of orange cheese and you can just picture Tom the cat hiding somewhere ready to chase him, but don't worry Jerry always gets away.
These round Jerry cheese stickers come in 2 sizes, 1 ½" on a sheet of 20 stickers, or 3" on a sheet of 6 stickers, have an easy to peel and stick back, and are scratch resistant.
Show your love of the Hanna Barbera cartoons get this Tom and Jerry Cheese Sticker.