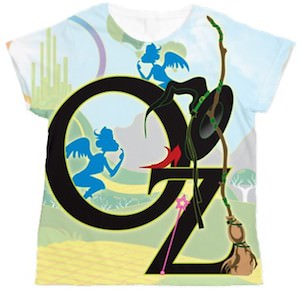 Did you fall in love with the 1939 film "The Wizard Of Oz over the years?
If you enjoyed watching Dorothy following the yellow brick road to find the wizard to help her get home. Then you will love this women's Wizard  of Oz t-shirt.
This women's Wizard of Oz t-shirt features a beautiful scenery from the movie of the yellow brick road with the Emerald city at the end with the quote "OZ" written in big capital letters. Also the wicked witches broom, hat and shoe with two of her evil flying monkeys creatures lingering around.
Its made from 100% softened polyester and is available in sizes from Small to 2XL.
Go to the land of Oz when you slip into this Wizard Of Oz Women's T-Shirt.