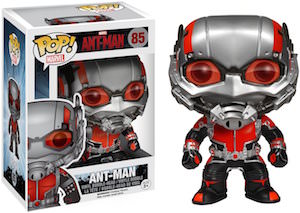 Ant-Man maybe the smallest superhero out there and now you can own a big version of the famous Ant-Man.
This Pop! Vinyl figurine is not just a figure it's also a bobblehead so that it can shake it's head at you all day long.
The Ant-Man figurine is 3 3/4 inch tall and that of course is much bigger then the real Ant-Man.
It would be great to have this Marvel superstar in your collection and if you like him to stay as new then you can keep it in it's nice display box.
Come take a better look at this Marvel Ant-Man Bobblehead Figurine.