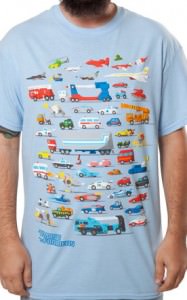 Do you remember the Transformer Autobots from your childhood and do you still love them?
Now you can wear many of them all on the front of one t-shirt.
This light blue 100% cotton t-shirt has red, white and blue Optimus Prime as the Freightliner semi-trailer truck, front and centre, and he is surrounded by many other Autobots in their vehicle form.
Some of the Autobots on this shirt are Ratchet as an ambulance, Grapple as a crane truck, Crosshairs as a van, Beachcomber as a dune buggy and Warpath as a tank.
This comfortable men's screen printed t-shirt comes in sizes S to 5XL.
Show that you are a fan with this Men's Autobot Transformer T-shirt.